In this week's 5 Fandom Friday, I'm focusing on those in the geek community who inspire me on a daily basis, whose example I strive to emulate, and who are making real impact on the world around them. So without further ado, here we go.....
1. Felicia Day If you know me in any way, shape, or form, you know that Felicia Day would be at the top of my list. Felicia has broken down a myriad of barriers for geeks in general, but, especially, geek girls and women. From her web series (The Guild) to TV (Buffy, Dollhouse, Eureka, Supernatural) to video games (Fallout: New Vegas, Dragon Age II, Guild Wars 2) to Geek & Sundry to her memoir (You're Never Weird On The Internet (Almost)), there isn't a part of the geeksphere that she hasn't touched. Btw, if you're going to read her memoir, grab the audiobook. She narrates!
As a girl, then a woman, who has always been on the geek side of things and has always had more guy friends, in that respect, than girls, it's relief to see such an amazing role model for myself and for men and women around the world. The geek community, although portrayed as such, is not as much of a boys club as many might think. I am entirely grateful that we have someone like Felica Day to show that.
2. Misha Collins
For the past few years, I've been participating in a little event known as G.I.S.H.W.H.E.S., or the Greatest International Scavenger Hunt the World Has Ever Seen, organized by Misha Collins (you'd know him as Castiel from Supernatural). It takes place during the first week of August each year and thousands of people around the world participate. Initially, I found out about it when I was stationed in Sicily, and my neighbors participated. Given that I was Active Duty at that point, I didn't have the time to participate myself, but it has been a yearly tradition of mine since 2014.
G.I.S.H.W.H.E.S. brings people of all walks of life together and takes many of us out of our comfort zones. On top of that, funds from registration, as well as the scavenger hunt items, help raise donations for a few different charities and/or initiatives each year. This includes Misha's 501(c)3, Random Acts, which encourages people of all ages to perform their own acts of kindness wherever, and whenever, possible.
There's a number of opportunities for just putting good karma out into the world during the hunt. For example, last year (2016), there was an item where you needed at least six or seven people from different teams to come together to write inspirational quotes on sticky notes, stick them up all over a bus stop, and hope that passersby would enjoy and/or take them. We had an amazing group of women, including two awesome friends of mine, that got together and did this item on the Southside of Jacksonville. I, even, got my nieces involved, as they loved the idea of finding quotes, that meant something to them, and sharing them with others. It got covered by local news and Misha, himself, even tweeted about it.
Who is behind this vulgar vandalism. BE THE UNICORN YOU WANT TO SEE IN THE WORLD. @gishwhes https://t.co/8m1HPMKLsw

— Misha Collins (@mishacollins) August 9, 2016
3. John Barrowman
From the very moment that I discovered John Barrowman, after catching up on years worth of Doctor Who and Torchwood, I was smitten. Here is someone who is a modern day renaissance man (in case you don't know, John is an actor, singer, dancer, TV show host, author, comic writer, captivating speaker, philanthropist, and so much more) who doesn't give one single frak what anyone else thinks of him. John is an inspiration of mine for many reasons. He fights for what he thinks is right, he stands up for himself, and above all, he is a man who is constantly there for his fans.
When gay marriage was finally legalized in the U.S., John and his partner of over 20 years, Scott Gill, went and immediately tied the knot. The pair had been in a civil partnership for years, but wanted to be among the first Americans to tie the knot. Instead of heading out immediately on their honeymoon, though, John, Scott, and John's sister and writing partner, Carole, continued their summer convention tour, including Dragon Con in 2013. It was there that I picked up the latest Barrowman-sibling written Torchwood novel, and thanked John and Scott for putting their honeymoon on hold. What was John's response you wonder? I'm paraphrasing, but it was basically, "I wouldn't be where I am without my fans and I wouldn't dream of letting you down."
4. Kari Toyama a.k.a. The Don Wan
When I was stationed in Sicily, I found a super cool online Halo tournament known as Fight Like a Girl, or FLAG, through the Gamerchix forum on the official Xbox website. It occurred every October for a few years, through the late 2000s/early 2010s, to raise funds for breast cancer. Only women and girls could compete, and for $15, that's what I did a few Octobers in a row because I decided that I wanted to use my gaming for good. Kari Toyama, also known as The Don Wan, was one of the masterminds behind that tournament. Nowadays, she's a producer over at Take-Two and had previously worked at Microsoft, PopCap, and a few others. I, actually, found her in the Peggle 2 credits a few years back. Additionally to doing good on a massive scale with organizing FLAG, Kari, also, did some good on her own to effect my own family.
A few years back, my niece fell off the monkey bars and broke both the radius and ulna in her wrist. Once she started physical therapy, I had asked her doctor if using an Xbox controller to play games would help her exercise her wrist and hand. The doctor said it was an excellent idea. I posted about it on my personal Facebook page and Kari offered some PopCap games codes to use for my niece's Xbox. My games were definitely not for her age at the time, so I am still ever so grateful to Kari for providing those and giving my niece some games to play and make some fun out of her rehabilitation.
5. Extra Life Jacksonville (and Extra Lifers Around the World)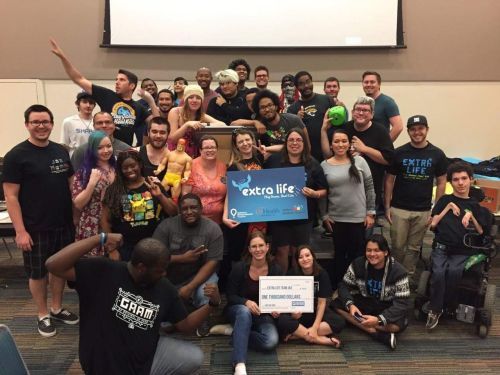 My journey to Extra Life starts with the ending of the FLAG Halo tournament, as mentioned above. It was a literal "one door shuts and another opens" kind of scenario. Having gotten excited about doing something good with my gaming each year, I started searching for another video game based charity event and that's when I discovered Extra Life, a 24-hour gaming marathon which benefits Children's Miracle Network Hospitals across the U.S. and Canada.
For the first two years that I participated in Extra Life (2011 and 2012), I lead my gaming clan, Delta Special Ops, in the marathon. However, after that second year, interest dwindled and left me open to pursue doing Extra Life locally. I did a Google search to see if anything Extra Life related was happening in, or around, Jacksonville. Lo and behold, I found that there was a team and a marathon being planned. That was 2013. Five years later, I couldn't imagine my life without Extra Life Jacksonville and the amazing community of gamers, partners, and volunteers that surround it.
I've been a leader, in some form or another, since the few months prior to our very first marathon. I just take care of the back end things, like finding places for us to do outreach, connecting to partners, getting things together for the marathon, etc. It's our volunteers and constant supporters that get all the credit. Our folks are out there at every convention, every geeky event, Artwalk, Riverside Arts Market, Free Comic Book Day, International Tabletop Day.....you name it, spreading the good word about what we do.
I, especially, love Extra Life because you can choose the hospital in which your donations apply. We encourage our locals to choose our two local hospitals so that any funds raised can stay in Jacksonville and benefit the kids here. Over the past four years of us having an initiative for Extra Life in our city, we've raised approximately $100,000 for the kids at Wolfson Children's Hospital and UF Health Jacksonville. It's nothing to shake a stick at and I am humbled by the amazing people who have come together to make Extra Life a reality and a mainstay initiative for our community.
It was really hard for me to bring this down to just five, as there are a number of other folks that I'd love to include. Who, in the geek world, inspires you to be a better person? Let me know in the comments.
If you're interested in the origin of 5 Fandom Fridays or just want to learn how they came about, head on over to The Nerdy Girlie's Origin Story.